America's Best Window Cleaning
1-866-946-2532
We have been the premier window cleaning company in the greater Los Angeles area for more than 20 years! 
We Provide Commercial, Residential and High Rise Window Cleaning & Pressure Washing Services.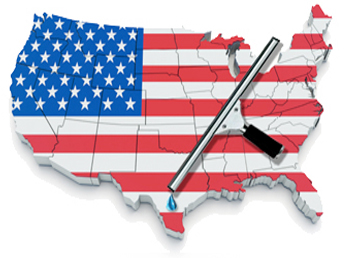 We Provide Quality Service

If you choose our window cleaning services today, you can be certain of a high-quality work done by fully licensed and professional cleaners. Our staff is highly-trained and equipped with the necessary tools to clean all types of windows. We care about our customer's
health and the health of their loved ones as well as their pets. In this light, we use only environmental-friendly products to clean the windows.
We will like to see all our customers satisfied with the service that they receive from our staff. Clean windows are essential in improving the value of your property.   Of course, it's possible for you to do your own residential window washing or commercial window washing, but if you want to give them a professional look, we advise you to consider contacting us today.
Window Cleaning & Pressure Washing FAQs
Can I clean windows in the sun?
Windows can be cleaned in the sun with certain guidelines.
– Use water or glass cleaner containing ammonia, hydrogen peroxide or alcohol to avoid streaks and residue on the surface of the window.
– Make sure your sills (the trim around the outside edge of the window) are dry before cleaning windows, as these can also accumulate streaks if they become wet.
– Do not use soap-based cleaners because they will promote streaky residue that is difficult to remove after drying; however, sudsy detergents may be helpful in removing dirt during transitional periods between steps within a cleaning process without leaving any film behind on glass panes.
Thanks to Window Washing Wealth for this fantastic insight 🙂
America's Best Recent Posts
5 Things to Consider When Finding Residential Window Cleaners
Residential window cleaning is gaining a lot of popularity among homeowners. It helps in improving curb appeal and creating an excellent first impression.
read more
Window Washing Company – How to Find the Right Service Provider
If you need your windows professionally cleaned, hiring a local window cleaning services is one solution to your problem. With this in mind, you have a number of local companies which provide washing and general cleaning services, so which one should you hire?
Type of Window Cleaning Service
When choosing a window washing company consider residential versus commercial specialists. If services are being done in the home, or in a large commercial space, will dictate which service providers you should consider hiring.
Consider Experience & Qualifications
Don't hire a company which isn't: licensed, bonded, certified, and insured. When choosing a local company for services, make sure they have the credentials to back up their services. Not only to ensure they are a reputable company you can trust, but also to ensure the window washers they employ, are qualified and have the standard experience/knowledge to do the job right.
Equipment, Cleaning Solutions & Techniques
When choosing a local window washing company consider how they perform window washing services. Do they offer pressure washing? Do their window washers have experience using the latest motorized equipment? Do they have "green" cleaning agents, or do they used chemical based solutions? Make sure the company you hire not only has the best equipment in place, but also that they employ the best cleaning techniques, methods, and have the experience in performing the cleaning services you desire.
Window Cleaning Prices & Guarantees –
It is in your best interest to get a few quotes prior to hiring a company. So compare prices, the service guarantees, money back guarantees, and anything else a company promises if you aren't pleased with their services. The best companies are typically highly rated (have great online reviews) will offer affordable pricing, and will guarantee the work they perform.
Because there are many local companies you can hire, it is important to consider several prior to choosing one. When the time comes to hire professional cleaners, these are a few factors which should help guide you in choosing a local window washing company for service solutions.
More information and other reading suggestions:
How to Find a Great Window Cleaner Nearby
No two window cleaners are the same. Some charge you way over the odds, while others provide you with excellent customer service. If you want to save money and find a quality window cleaning company in your local area, follow these tips. These methods are great if you have ever asked yourself, "what's the best window cleaner near me?"
First, Use a Price Comparison Website
Price comparison websites let you compare and contrast different window cleaners in your area. You'll find loads of information in one place, so you won't have to search the internet looking for the best prices. Just search for local window cleaners, you'll receive a list of services in your area. Pay close attention to prices, too. This will help you find the ultimate window cleaner for your particular needs.
Secondly, Contact Window Cleaning Companies
Once you have found two or three window cleaning services that you are interested in, contact each one by phone and email to obtain a full quote. Remember to ask about any hidden fees. The best window cleaning services have competitive flat rates, so you know exactly how much it will cost you right from the very start. Some window cleaning companies might charge you more cash if you need your windows cleaned during the weekend or on a public holiday, so don't forget to ask about this as well.
Last, Check Out Review Sites or Call The Company

Review sites let you check window cleaners in your area. You will find reviews from other customers who have used their services in the past, and you can use this information when deciding on the best service for your circumstances. Pay close attention to any negative reviews. These might indicate that a customer was not happy with a window cleaning service in the past.
Looking for the best window cleaners nearby sometimes can be simply done by calling and asking to speak with the owner. If you let the secretary answering the phone know you are planning to get your windows cleaned, and not selling something, most secretaries will allow you to interview the owner of the company.  Follow the three tips on the list above to save money and find a professional that suits you.